#Ibizaisopen
The spirit of your favourite Mediterranean island is very much alive this summer and if you haven't already organised your 2020 stay in Ibiza, why not muse over hotels around the island that will each serve as their own interesting escape for you and your travelling companion(s)!
So much more than just a place to sleep over, these establishments come with quirks and perks that make it hard to choose. 
Wiki Woo Hotel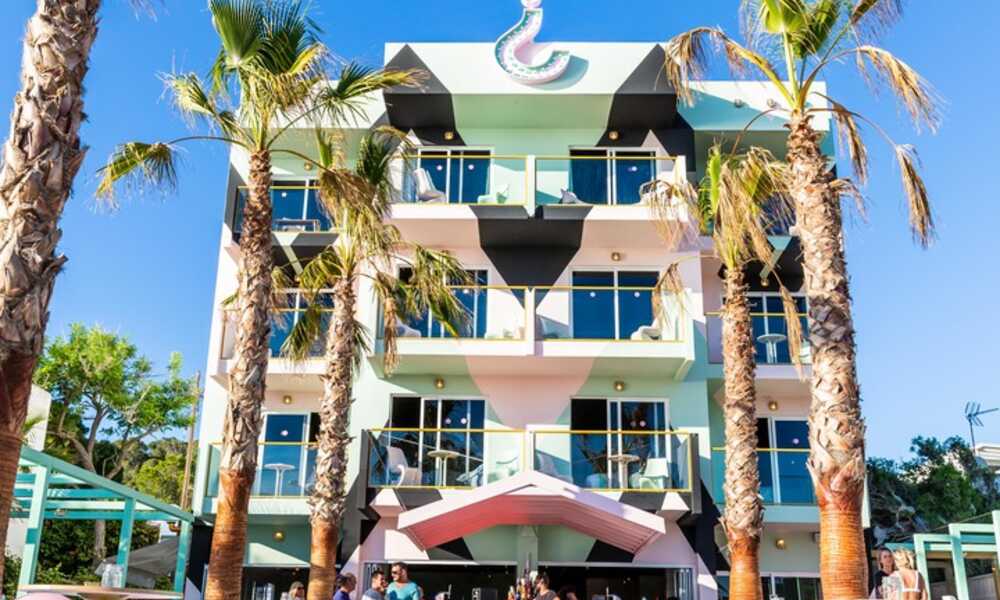 Fondly known as one of Ibiza's most instagrammable hotels in Ibiza, Wiki Woo's a charm. Pink parasols and neon lights will lure you in, but it's the little touches like cowshed handwash and sweets in the room, that make you never want to leave.
Just a stone's throw away from your favourite day club O Beach Ibiza, this pink palace is what art deco dreams are made of.

Want your late night dancing fix this summer? We recommend booking the sound-proofed secret suite, a glitzy boudoir hidden behind a mirrored wardrobe – perfect for a private party.
Re-opening 1 July
Nobu Hotel
Co-owned by Robert de Niro, Nobu Hotel Ibiza Bay is minimalist in style and maximalist in luxury.

This five star stay boasts two pools (a livelier one for adults, and a more relaxed family pool near the kid's club), an elegant spa, a hair salon and of course, the world-famous Nobu restaurant, taking you around Japan in an array of dishes.

Re-opening 10 July

The Beach Star

Twice the venue for our in-house party, the Beach Star is a firm favourite amongst the O Beach Ibiza staff. This contemporary hotel is perfect to unwind poolside, while cocktails are served against a backdrop of smooth balearic beats.
Rinse off at our favourite spot – the disco ball shower.

Re-opening 1 July
BLESS Hotel
The chic, monochrome umbrellas at BLESS hotel are a French riviera vibe, but the stunning sea and sky views from the infinity pool are unmistakable Ibizian.

Recently opened, you'll have to travel to the north of the island to reach BLESS hotel – the drive will be worth it. 
Expect Le Labo amenities and michelin star food and drink.

Re-opening 10 July
Grand Palladium Hotel

You'll find this all-inclusive five star hotel in Platja D'en Bossa, set among lush gardens. Not only can you enjoy four freshwater pools and a spa, but also a range of activities including darts, tennis and archery.
Five bars mean you can enjoy drinks in various settings, and four restaurants mean you can enjoy cuisine from around the world, without ever leaving the hotel.

Re-opening 3 July
Paradiso Hotel
Like something straight out of a Wes Anderson movie set, Paradiso is an 'art hotel' in Cala de Bou.

Enjoy tipples at the hotel's retro bar Andy's, an on-site tatooist, a pop-up boutique, DJs that will have you on Shazam and a smeg fridge in your room.
Look out for the hotel from a distance at night, it lights up the bay.
Re-opening in July
Santos Ibiza
Santos Ibiza is like a sapphire jewel in the sparkling Med. Find breathtaking sunrises nearby in the morning, Kick back and enjoy a beach facing massage during the day, and wander out to local bars during the evening.

Avant-garde style and a homage to rock'n'roll come together in this hotel in Bossa.

Re-opening in July

THB Hotels

THB hotels are offering a 15% discount on all their hotels in Ibiza throughout the summer when booking directly with us. Both the THB Ocean Hotel and Naeco are conveniently located near your favourite day club O Beach Ibiza so you can go from pool to pool with ease.
THB Ocean Hotel and Naeco reopening 10 July